Sexy Open Bust Teddy Lingerie
Open Lingerie
---
The open bust teddy is without a doubt one of the sexiest open lingerie and intimate apparel styles available today.
Similar to a traditional one piece teddy, it usually has a completely open bust that is designed to show off or maximize the breasts.
Less risque teddies have an open nipple style that are designed to show just a glimpse of the bustline, and are a great option for women who want to give exotic lingerie a try, but aren't quite ready to commit to uber sexy styles.
A close cousin of sexy open bust corsets and the open bustier, the teddy is definitely risque and considered more appropriate for the bedroom than for everyday intimate apparel.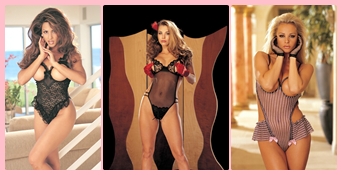 This peekaboo intimate apparel is a one piece - a sexy combination of sheer camisoles and and micro panties - tight fitting and see though, it leaves less to the imagination than a traditional bodysuit
The teddy comes in many sheer, lace, silk and satin fabrics. It's important to keep in mind that sexy and seductive fabrics aren't always necessarily the most comfortable.
Always opt for softer, stretchy fabrics that won't irritate, scratch or chafe delicate skin.
Stretch laces, or lace and lycra spandex combinations are a great choice.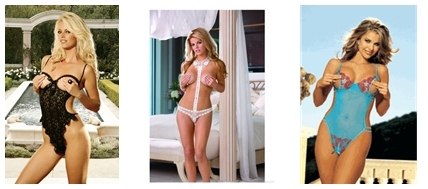 Teddy Styles
---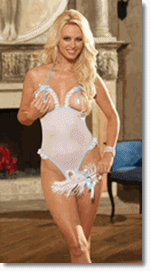 There are two basic styles of teddies that are available in open lingerie.
The first style as shown here is an crotchless teddy - the ultimate in ooh la la, with risque open bras that completely expose the breast and crotch area. They usually have a thong or g string panty, and are backless.
Very seductive, this style really shows off in sheer fabrics such as lace and mesh.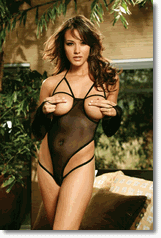 A second very popular style is the silk, satin, lace or mesh thong teddy lingerie which is designed with a minimal thong back.
This is ideal for showing off your great gams....giving them a long, lean and alluring look. Heidi Klum, eat your heart out!
Lingerie Tip...Smooth a light tanner on your legs and shimmer cream just above your open lingerie teddy to ensure maximum sexiness...


Return to open lingerie

Leave open bust teddy and return to exotic lingerie