Best Open Bra Tips & Advice
If you love lingerie but the thought of an open bra has always made you blush, it may be time to give this popular open bust lingerie a second look.
Open bust brassieres, also known as cupless bras are bras without the traditional bra cups that we are all familiar with.
But, they're not all totally cupless, as the name suggests.
You can find several bra styles within the category. Some of these sexy bras expose more of the breast while some expose less.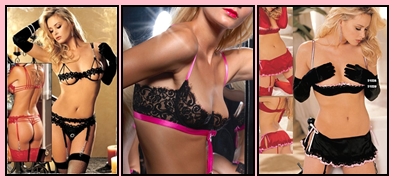 Open Bra Tips

We've listed some of the more popular brassieres here:
Open Tip Bra - This is the most popular and modest of the cupless bra styles currently available, which makes it a great option for anyone wanting to try these exotic bras for the first time.
The bra cups cover almost all of the breast except for a small area around the tip which remains open. Some styles cover less of the nipple, but it really depends on the look and fit that you want.


Open Shelf Bra - This is the most daring of cupless bras. The entire cup is missing, exposing the breasts which rest on a shelf, hence the name shelf bras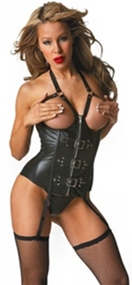 Open Nipple Bra - Another favorite cupless bra style. These brassiere cups are almost all covered except for a small round area around the nipple which remains exposed... they are also called nipple bras.

Open Bust Teddy - This is another popular variation of the cupless bra.
This is a one piece teddy lingerie with cups (depending on the style) that vary slightly open with a bit of the breast showing, to totally cupless bras.

Open Bustier - An open bust bustier is a sexy one piece lingerie that hugs the torso and ends at the hips.
These bustier tops have a cupless bra and are available in many styles from the sheer bustier to the naughty victorian bustier corset. This is another great open bra style.

Cupless Bras - Lingerie Colors
---
Once you've decided what kind of sexy brassiere you want, you'll want to decide on colors that you love and that are complimentary to your complexion and hair color.
Choose colors that you like and feel comfortable with.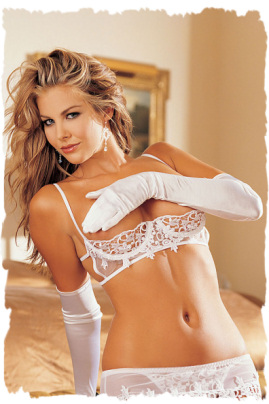 Are you a brunette? Jewel colors like ruby red, emerald green and rich royal blue will look fabulous.
Are you blonde? Pale shades like baby pink, and pale blue/silver are can't miss colors. And of course black is the most popular color for everyone!
But, remember if you're going to wear a peekaboo open cup bra, darker colors like black and red show through very easily under colors like white.
So, if you are wearing a white or cream colored blouse, be careful.
If, you don't want to expose your peekaboo lingerie to the world opt for a more neutral color like skin tone or beige or even a white cupless bra under lighter colored clothing.
If you want something luxurious choose a style in gorgeous silk or satin trimmed with ribbons or some pretty scalloped lace.
If you're more daring go for a sheer bra with matching g string panties and garter belt.
Now you're ready to go shopping...enjoy and have fun!