Mesh Panties Insiders Guide

---
Mesh panties are a fun alternative to everyday cotton panties and underwear for women. They're sheer, smooth and comfortable. And, because they're often made of a blend of soft nylon with a touch of lycra / spandex, they're quite stretchy.
It's not difficult to shop for mesh underwear in a variety of colors, and depending on your taste, you can find them trimmed with lace, ribbons, or ruffles for extra style.
Fine mesh lingerie is sophisticated and sleek; well-known lingerie manufacturers such as Armani, Calvin Klein, Elle Macpherson and Chantelle lingerie always include mesh panties in their lingerie lines.
Shop For Panties
---
Many people hear the word mesh and automatically assume, "sexy exotic lingerie".  Mesh does not always have to scream "sexy," though.
Conservative mesh styles are available as well, so even if you're the most demure woman on the planet, you can still enjoy the look and feel of sheer lingerie without stepping outside of your comfort zone.

Sexy Mesh Underwear Tips

---
Here are a few of our favorite panty tips:
A plain nude mesh thong can be slipped on under a tight dress or yoga pants to hide your panty line - mesh is often the best option for a seamless panty.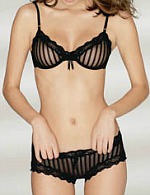 Mesh hipster panties or boy shorts, on the other hand, provide a more casual look under jeans or corduroys.

For a different look, opt for briefs that are mesh on the front and plain on the back, or vice versa. These can be high-waisted or low-cut, depending on your style.

For a sexier vibe, switch out the briefs for a red thong with black lace trim.

On date night, sheer mesh bikinis, thongs, or hiphuggers can give women the confidence boost they need to turn on the charm.
For an even more seductive look, opt for coordinated mesh bra and panty sets in a variety of styles.
---



Carmen's Tip



Mesh underwear are easy to wash.

Just throw them in a lingerie bag and run them through the delicate cycle of your washing machine. Use luke warm water only.

Line dry and you're good to go.
---
In some cases comfort and practicality are more of a priority.
New mothers who have recently given birth, or women who have had surgery often wear (and swear by!) disposable mesh panties specially designed to comfortably conform to their bodies.

Whether you're simply looking for a change or a sexy sheer panty, ladies panties can be comfortable, sexy, and fun, so there is no reason to be intimidated by expanding your panty repertoire and adding mesh to your collection!