Lingerie Buyers Guide
Exotic Lingerie
---
Lingerie Buyers Guide... Do you love to buy pretty intimate apparel for your sweetheart, but don't know the difference between a thong and a sheer bikini panty?
Or a lace chemise vs a bustier or corset? Don't panic, it's much easier than you think!
Today has never been such a great time to buy intimate apparel for your loved one, and these lingerie shopping tips for men will make it much easier. Let's get started....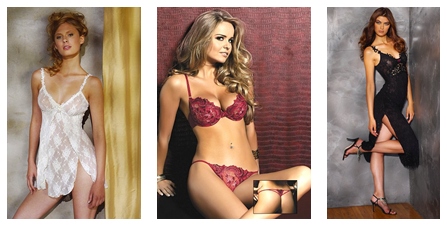 Basic Intimate Apparel
---
Its' much easier to understand that intimate apparel is divided into functional categories. Today's exotic lingerie comes in three basic categories...
Basic - or everyday intimate apparel includes classic or simple styles that provide comfortable coverage like:

... and so much more. Look for clean classic designs without too much frill or fuss.
Choose soft and stretchy fabrics in stretchy soft cottons and laces with spandex, nylons and soft microfiber.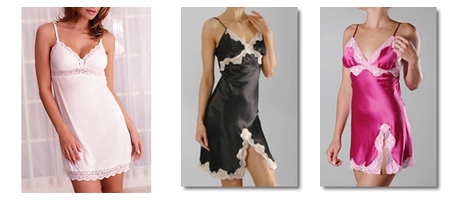 Sexy Lingerie
---
Sexy Lingerie - this flirty styles of intimate apparel is always a popular favorite for both men and women.

Sheer exotic bras, in classic sheer lingerie fabrics like lace, fine mesh, and microfibers are the best choices.
With so many different types of bras and beautiful styles to choose from, it's easy to choose something she'll love.
Look for her favorite colors, and don't forget to check her bra and panty drawer for the right size.
If, you're not certain about lingerie shopping for a brassiere, then a simply sexy black chemise in stretch lace is a style most women love.
And don't forget about the bottom half! Intimate apparel panty possibilities are endless. Depending on her taste (and yours), here are a few popular styles...
low rise panties


lingerie garter belt


g string panties


sheer bikini panties


womens thongs
...and more. If she's more conservative, or on the shy side, opt for a cute pair of boy shorts or brief panties in her favorite colors.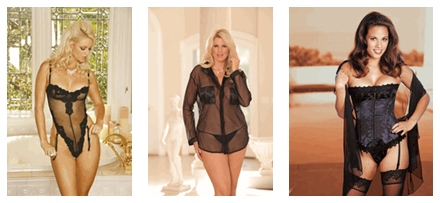 Naughty Erotic Lingerie
---
Naughty or peek a boo intimate apparel - is designed to both seduce and beguile its audience and wearer.
Sexy transparent open lingerie styles with feathers, sequins, wild patterns fall into this category.
Open styles like open bras, open bikini panties, and so much more are usually worn for special occasions such as Valentines Day and Christmas and other special holidays throughout the year.
Black is a lingerie buyers guide favorite with specialty colors like red and pink running closely behind for Valentines Day!