Confessions Of A Flannel Pajamas Junkie That Will Surprise You

Flannel Pajamas - Obsessed, fixated, infatuated – call it what you want; we are smitten with flannel sleepwear and simply can't get enough. We're sharing the secrets of our passion for these comfy, cozy pjs, and don't say we didn't warn you if you become hooked too
 Comfortable Sleepwear

Traditional flannel wins first place when it comes to comfort, especially during the cold winter months. The ultra soft, thick and snuggly fabric makes these pjs a no brainer when you want to curl up in coziness.
Choose a warm pants and shirt set to beat the cold weather blues, or look for less coverage when it's hotter outside but you still crave that comfy feeling.
 Versatile Pyjamas

Flannel pjs aren't just for sleeping in. We love wearing them as loungewear too. Slip them on in the evening when you're curled up with your favorite book or movie, or relax in them a little longer on a lazy weekend morning as you savor your coffee in snuggly softness.

 Undercover Sleepwear Sex Appeal

Did You Know?

Thick and durable warm wear flannel feels great against the skin and is comfy cosy on cold winter nights.
While flannel sleepwear isn't as obviously sexy as lace bustiers or slinky nighties, it does have an earthy and natural sexy appeal that we love.
Try a flannel nightshirt that suggestively slips off one shoulder, or leave several of the buttons undone for a tasteful glimpse of your curves. Or slip your favorite flannel pajama pants on with a pretty camisole.
Even a flannel nightgown can be flirty when you choose a short and swingy style. There's something covertly sexy about being covered up but revealing just a hint.
 Casual And Cosy Indulgence

Choose high quality, well-made flannel pajamas and get a taste of relaxed comfort that feels amazing. We love the way slipping into flannel sleepwear feels ...a casual and cosy - there's nothing like pampering and treating yourself to a sleepwear indulgence.

 Fuss Free Flannel Pajamas

Of course there's a time and a place for silk, lace, mesh and beautiful lingerie, but all of that seems so fussy and complicated next to the ease and effortlessness of flannel pjs. Without giving up style, or trading in your pretty sleepwear taste, flannel can give you the relaxed look you crave without feeling finicky.
 Fun And Flirty Flannel

The sky's the limit when it comes to prints and patterns of flannel sleepwear. Choose classic menswear prints like pinstripes, pretty florals for a more feminine look, or show off your bold bedroom style in whimsical prints and bright shades. Flannel pajamas never take themselves too seriously so they feel fresh and fun every time you slip them on.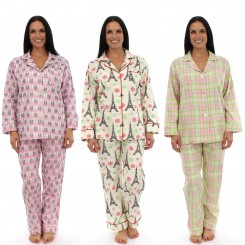 Affordable PJs, Niteshirts And Pajama Bottoms

Flannel pjs are a budget friendly way to dress for bed. Whether you choose a nightie, or a pants and shirt combo, there's a vast array of choice when it comes to affordable options. Save your splurges for fancy silk or lace lingerie, and give your wallet a break when shopping for flannel sleepwear.
Even higher quality flannel sleepwear tends to be less expensive that other types of pajamas and lingerie, so enjoy the savings without giving up any of the things you love about cozy comfortable pajamas.