Exotic Leather Lingerie
Exotic Lingerie
---
Exotic leather lingerie. If, you're searching for something new, inspiring and sexy, it might be just what you've been looking for.
From exotic bras and panties to bustiers, teddies and dresses, there are a multitude of fabulous leather lingerie styles available.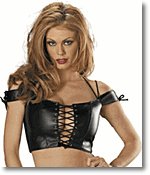 Unlike traditional sexy sheer lingerie, leather has long been considered strictly for bikers and cowboys - definitely edgier and more on the wild side.


Yet, leather is now considered to be more mainstream than ever before.
The combination of buttery soft leather has a unique sexy appeal that many intimate apparel lovers swear by.
What makes leather so appealing? For starters, it's unique, and definitely not your traditional sexy lingerie.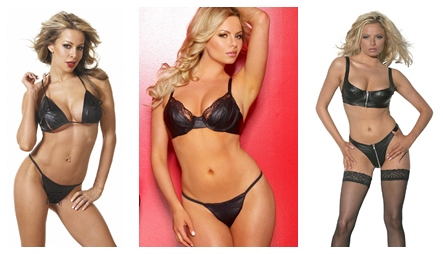 Just like your favorite Italian shoes, exotic lingerie in leather is soft, supple and initially cool to the touch, but quickly molds to your curves with the heat of your body, ensuring a perfect one of a kind fit.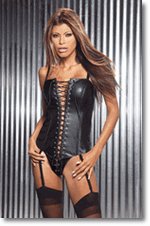 But, be forewarned, leather lingerie can be quite pricey. For the best selection, convenience (24/7 from the comfort of your own home), and discretion you'll probably do your shopping online.
Be sure to follow online sizing charts carefully, and remember to check the return policy. You'll want to be able to return items that do not fit.
While you probably won't want to rush out and buy an entire erotic leather lingerie wardrobe, there are many intimate apparel styles to choose from that you can mix and match with your favorite sexy bras, panties, camisoles and cami sets, and chemises.

Exotic Bras
---
Whether you're looking for extra small intimate apparel or plus size leather lingerie, there is something to please everyone.
Here are just a few of the current popular styles...
leather corset
leather bra
leather thongs
leather bustier
leather teddy
Sexy Exotic Lingerie
---
Looking for something perhaps a little more daring and definitely different? Get some inspiration from these fun exotic lingerie styles....
crotchless leather lingerie
pink leather lingerie
leather and chain lingerie
red leather lingerie
Caring For Sexy Lingerie
---
And, finally here are a few easy guidelines to keep your exotic leather lingerie in tip top shape....
Avoid storing intimate apparel pieces together as they may chafe and damage each other. Keep from touching each other in a well ventilated area. 
Avoid placing a a wet or damp garment near any heat source. Allow to air dry on its own.
For smaller stains, remove as soon as possible with a mild cleaner like saddle soap.
For more serious stains, use professional dry cleaners.
Always condition your intimate apparel with a good quality leather polish.
Leave exotic leather lingerie and return to beautiful lingerie