Does Your Bra Fit
You Properly?

Bra Fitting Tips For 6 Popular Silhouettes

---
What makes a great bra fit? Is it the bra style, the fabric, the flexibility, or something as simple as just choosing the correct bra size?
Unfortunately, most women become frustrated when bra shopping and usually end up buying the first bra they find.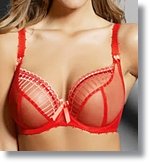 Then, when it doesn't fit it gets relegated to the back of their lingerie drawer.
A great fitting brassiere is supposed to do two things for the wearer – it should support and most importantly, enhance the breasts.
And, while lingerie fabrics, bra sizes and flexibility all factor into finding the right bra size, there is one brassiere secret that most women overlook.
What is it? The natural shape or profile of their breasts.
Everyone is different, and brassieres that look and feel fabulous on one woman may not look as great on another woman simply because she her breasts are shaped differently.
Let's take a closer look at six different profiles and the types of bras that are best suited to them.
Shallow Top
---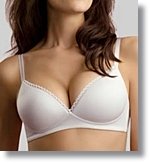 Breasts that fuller and rounder along the bottom, but are shallow or don't appear to have much breast tissue at the top.
This silhouette requires a bra style with a triangular shape that will support the fuller part of the breasts along the bottom, and enhance or lift the upper part, while creating a beautiful cleavage.
Recommended bra styles for this shape are:

Full Cups

---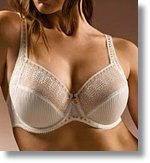 Breasts that are fuller and rounder along the bottom as well as the top and tend to have an overall fuller mass.
This shape requires a bra style that provides good coverage with larger bra cups that support well, with a flexible underwire.
Recommended brassieres for this profile are:

Uneven Cups

---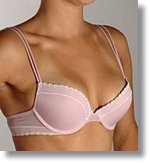 This occurs when one of the breasts is either visibly lower/higher or slightly smaller or larger than the other breast.
This silhouette needs a brassiere (preferably with bra cups made from a stretch fabric) that fits the larger breast easily, together with a bra insert, lifting tape or a bra pad placed comfortably in the cup of the smaller breast.
Recommended solutions for this breast profile are:
---



Carmen's Tip



Not Sure What Your Bra Size Is? Visit the lingerie section of your local department store, and make an appointment with a trained bra fitter.

She'll take your bra measurements, ask about your wardrobe preferences, assess your breast shape, and make suggestions on which types of bras and lingerie brands are a good fit for your silhouette.
Average Cups

---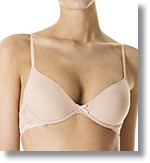 Breasts that are round and distributed evenly; they are proportionate to the body and do not appear to be too large or too small.
This silhouette is very flexible and can wear both underwire bras for additional lift and shaping, and wireless bras for added comfort.
Recommended brassieres for this profile are:

Wide Set Cups

---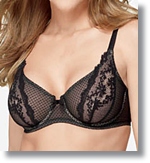 Breasts that are set farther apart from each other, and that tend to naturally rest away from the middle; some women have breast tissue that is fuller under the arms.
This silhouette requires bras with wider, flexible side boning and bra cup support that will shift the breasts back to the center for a more tailored look.
Recommended brassieres are:

In-Between Cups

---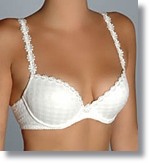 Breasts that are between bra sizes, i.e. they are too small for one cup and two large for the next cup size.
This silhouette needs brassieres with stretch bra cups that mold comfortably to your breast shape.
The best bras for this are made of nylon or lace with a spandex or lycra blend.
You can also opt for padded bras or bra inserts for a smoother fit. Recommended brassieres are:
Return to bra fitting

Leave bra fit and return to exotic lingerie