What You Need To Know To Do
Adhesive Bras Comfortably
Adhesive Bras - Today's hottest fashion styles are creatively crafted with unique straps, statement necklines, and plunging cuts. The best bras are ones that ensure the coverage you need to stand out in even the most daring and complex styles.
So, before you hit the stores for an adhesive bra, brush up on the basics to make sure you have the perfect match for your ensemble...

Pick The Right Bra Size

One size fits all simply doesn't cut when it comes to any kind of bra, and adhesive styles are no exception. But, where should you start?

Choose cups that fit your bust properly to make sure you're not spilling out the sides, or drowning in a size that's too big for you.
Look for styles that offer a range of sizes so you can match it to the bra sizes that you usually wear. And, always always try before you buy so you can double check that you're choosing the right size and have found a bra fit that works for your body type.
Test The Style Before You Go

Before hitting the town, take a few moments to ensure that you've applied your stick-on cups properly:
Place them further apart to squeeze your bust together for a pushup effect
Place them a little higher for a minimizing look
Place them slightly lower to boost your bust
Once you have adjusted your bra in place, make sure that you can move around comfortably. This is really important, so keep it in mind whatever you're planning on doing.
For example, if you're going to a wedding and will be dancing up a storm, make sure that you can break out your best moves without your bra shifting or causing an embarrassing wardrobe malfunction.
Carmen's Tip...

Silicone adhesives, bra petals (aka Petal Tops) are round or flower-shaped adhesive disks that are designed to strategically camouflage the nipples.
They're a great under sheer blouses, knits, and tight-fitting clothing.
Keep Skin Clean For The Best Fit

Make certain that you have a good bond with the bra by keeping your skin clean and free of lotions, oils, or powders. Skip whatever body creams you would normally apply and keep your chest area clean.
Whether you're wearing a sticky adhesive bra or silicone cups, you'll get the best application when you keep your skin clean and free of any residue.
This will help keep your bra in place and stop it from slipping off, so don't skip this important step.

Proper Bra Care Is Important

Proper care is key when it comes to adhesive bras. Don't be tempted to keep disposable styles to wear again.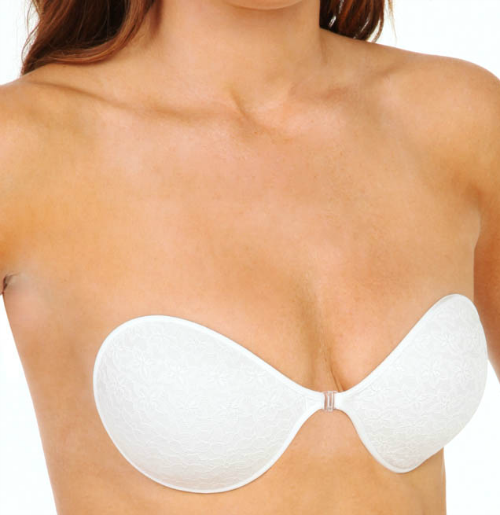 Plunge Bra
These are usually inexpensive so you're better off to stock up on several so you can toss one after wearing and have a backup waiting in your drawer.
If you're wearing a re-useable silicone style make sure to follow the care instructions that it came with, or simply opt to hand wash it with warm water and soap.
Let it air dry and store it back in its original package to keep its shape.
This will keep it clean and free of bacteria and sweat, so you can slip it on next time you have a killer outfit that needs an adhesive bra. This way you can be rest assured that it's fresh and clean.
Choose Adhesive Bras That Work

Color Confessions
Want your bra to look invisible under your clothing?
The best color is nude or skin-color that is as close to your natural skin tone as possible
It blends in with your skin for a more finished look.

There are loads of options available for these types of bras.
From stick-on nipple covers, to long-line styles with low cut centers that allow for plunging tops, and everything in between.
If you're buying an adhesive bra for a specific outfit, bring it along when you shop.
This is really important because you want to be certain that whatever you buy lies flat and remains invisible under whatever you are wearing.

If, bra shopping with your special outfit is not possible, you can always buy the bra, then try it on under your clothing at home to make sure it works well. But, before you purchase anything remember to check out the store policy.

Get The Right Level of Support

One size never fits all....especially with beautiful lingerie. Different bust sizes will require different levels of support.
Smaller busts can wear lightweight silicone cups or adhesive petals, while larger busts will need bras that have underwire cups or wider bands under the cups that add support and lift to ensure a smooth and flawless look..